Recently, one of my team members surprised me, as he said, "by going rogue" and nominating me for a 2022 International Business Award for my thought leadership.   And yes, I won Bronze for Thought Leader of the Year – Consumer Products!!
I can't tell you how honoured I am by this and how the surprise was the best part of it!!  While I'm grateful for this personal recognition, it must be said first and most importantly that this recognition is a direct result of the amazing team around me.  The team inspires me, supports me and their amazing contributions enable me.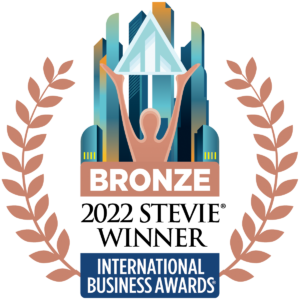 The International Business Awards, also known as the Stevie® Awards are the world's premier business awards.  They were created in 2002 to honor and generate public recognition of the achievements and positive contributions of organizations and working professionals worldwide.  In short order the Stevie has become one of the world's most coveted prizes.
The statue itself is beautiful. The Stevie Award is manufactured by the same company that makes the Oscar.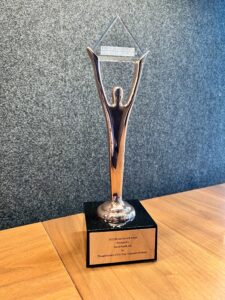 The name Stevie is taken from the name Stephen, which is derived from the Greek for "crowned."  The crystal pyramid held aloft by Stevie represents the hierarchy of human needs, a system often represented as a pyramid that was developed in the 1960s by psychologist Abraham Maslow, who observed that after their basic needs are met, human beings seek the esteem of their peers.
Stevie Award judges are selected by many of the world's most respected executives, entrepreneurs, innovators, and business educators.  More than 1,000 professionals worldwide participate in the Stevie Award judging process each year.  And the judges themselves provide you direct feedback on your work.  Here's a few comments on my thought leadership:
Excellent entry with forward-thinking leadership taking an industry from old school to future thinking and bringing people along together. Really good work
David Postill, congratulations on the successes you have led during challenging times. When I read in your nomination the leadership style you use, it resonates with me as a win-win-win for employees, employers, and the community it serves, "Care and connection have always been first and foremost for David. It's one thing to shift focus but ensuring that the whole team is onboard and motivated for the change is what leads to success."
As Stevie Award Judges we are asked to provide candid feedback to help nominees for future endeavors. I believe the type of leadership that describes you David is needed for organizations to be sustainable. I am a champion for high caliber leaders as I see ethical leadership lacking in so many places in our communities, which prompted me to go browsing around your website to see if I could find evidence that your leadership approach had a positive ROI on AGI. I did find some information that AGI was paying a dividend in 2Q along with other press releases that filled in the gaps on my financial questions. While reviewing the press releases, I saw "AGI Launches StepUp4Ukraine Collaboration," which is impressive. Although it may not fit in with this nomination category, everyone likes to read about the heart of organizations, which typically reflects the organizational leadership style. In summary,
I am ranking your nomination as "10" and I am hopeful my associate Judges were also able to take the time to validate the positive financial impact your efforts have had on the organization.
Absolutely outstanding contribution to the agriculture industry in many critical ways! Leading innovation in the digital space for this industry from events to 3D equipment experiences and putting on events for producers. Making sure that CX is integrated cross-functionally. All the while staying grounded and leading with empathy and decency in the face of such success no doubt has created a legacy. As a person, I should see his awareness and visibility in the industry including in many news, seminars, podcast channels etc.
Again, a very critical industry that stands at the frontline but an organization at this scale and what has sound leadership will eventually weather through the changes and uncertainties in any industry. The importance of an empathetic, people-first leadership cannot be emphasized more and the nominee's commitment to the same is very impressive.
Many thanks to everyone that has supported me over many years.  I'm grateful for everyone's help.
Dave.